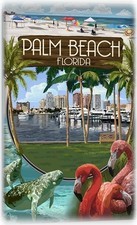 "Lovely private oasis in the heart of Palm Beach County! (Carli B.)" - , 04/09/2023
"This was a great 5 night vacation for us in a private, safe, and beautiful tropical setting. We especially enjoyed the heated pool and jetted hot tub!! Also, the location was awesome since we could easily explore the area in both directions without having to drive very far. (Nicole)" - , 03/17/2023
"The 4 nights we spent here were definitely not enough! We're planning to return later this year and book the whole house for at least a week. (Jill)" - , 01/22/2023
"I booked this fabulous Boynton Beach "retreat" for myself and 2 friends so we'd have a nearby place to stay while attending a wedding in Northeast Boca. It was a lot better than the expensive hotel our other friends stayed at that didn't have a heated pool so they never even used it! We all had a really great time here and definitely plan to return in a few months. (Barb S.)" - , 03/25/2022
"I rented this beautiful place for a few days to hang with my golf buddies. Could not have hoped for a nicer spot during frigid February virtually everywhere else in the U.S. This will be our new go-to winter oasis. (Tim R.)" - , 02/06/2022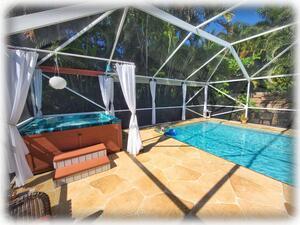 "My three friends and I stayed here for a week to escape the freezing Michigan weather. It was exactly as described and we totally enjoyed our entire stay. The neighborhood was quiet - MUCH better than a crowed/noisy hotel - and yet there were plenty of great restaurants and bars nearby. We highly recommend! (Jenny)" - , 01/17/2022
"We tried booking this place last year over the Thanksgiving holiday (visiting friends nearby with limited room) but it was unavailable since the entire house was already booked. We reserved early for this year so we'd definitely have a nice place to stay when we returned. It was beyond wonderful - a gorgeous and relaxing retreat. We learned from past experience that a heated pool is SO important late in the year, even in Florida. The hot tub was a huge bonus!! (Veronica)" - , 12/01/2021
"Heated pool and hot tub - TOTALLY PRIVATE - surrounded by palm trees in South Florida. What more could you possibly need for the perfect vacation??? (David O.)" - , 02/28/2020
"My parents and I stayed here for 5 nights while visiting family nearby and escaping the cold/snowy weather of Pennsylvania. We're very glad that we found this tropical gem near the beach with a private heated pool. The relaxing hot tub was a big perk! We definitely plan to come back next year and recommended it to several friends :D (Lisa T.)" - , 02/09/2020
"Me and my 2 friends got evicted from our vacation rental in Ft. Lauderdale because the owner there was illegally renting short-term!! We found this "retreat" in Palm Beach County (much nicer area, anyway) on-line to finish our trip at. It was very clean and absolutely beautiful! We all wish that we had originally booked this place instead. Hard lesson learned. (Pat L.)" - , 01/07/2020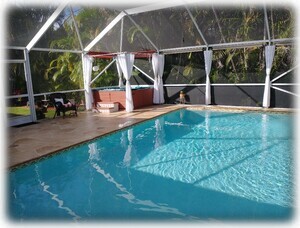 "Recently I stayed at this suite in Boynton Beach, Florida. I have to say that enjoyed it immensely. The suite was very clean and had everything I needed. There is a private entrance to the suite and also to the pool and hot tub of which I have to say the water temperatures were absolutely perfect. The pool and hot tub also were very clean, private and available any time during the day or night. It was truly heaven on earth. The location is a short drive to the beach and not far from the fabulous downtown of Delray Beach. Palm Beach is also a short distance away so there are plenty of options in close proximity. Sarah is a great host and sure makes her guests feel welcome as she pays attention to every little detail. I would highly recommend staying here. You will love it!" - Jeff M., 03/12/2019
I'm delighted that Jeff had such a great time at the property and thoroughly enjoyed all the amenities available there.
"Just what we needed. Very comfortable and clean. The pool and hot tub were just what we needed after a long day on the water fishing. Great location." - Rick G., 02/11/2019
Rick was a wonderful (and quiet!) guest. Would definitely rent to him again.
"Quiet and private. Close to beaches and restaurants. Quick to get an Uber if you want to go to Delray or Boca and have a few drinks. Pool and hot tub right out your bedroom door. Clean and convenient. Homeowner very easy to work with. Close to West Palm airport. Guests are welcome. Nice lanai if you don't want to be in the sun or if it rains. I would rate this stay 5/5 😎" - Ellen G., 02/27/2018
It was a pleasure to host Ellen and Anthony at the 'tropical retreat'. They are a very nice and friendly couple that seemed to really enjoy their 10-night stay.