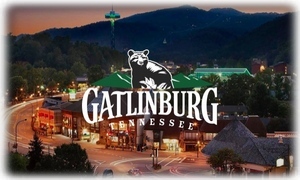 "Thank you for a wonderful vacation in the beautiful mountains! We especially enjoyed all of the wildlife seen from the deck! Our very first bear encounter was within 15 minutes of our arrival and we thought he was going to climb up in the hammock and take a nap! Thanks again for a comfortable and fun vacation filled with wildlife! We plan to check out your other rental property for our next visit! (Angela L.) " - , 07/31/2023
"Staying at this clean & lovely cabin in the heart of Gatlinburg was a great choice. We all had the best time! The Web site is very detailed & the owner was super-responsive, which made the entire booking process easy. Just wish we had booked more nights since there is SO much to see and do in the area! (Chris)" - , 06/20/2023
"Friendly host, beautiful home, and perfect location - just walking distance away from the downtown strip in Gatlinburg !! (Leslie O.)" - , 05/29/2023
"We had a wonderful stay at the chalet and were fortunate to see the 5 bears that live nearby. Although we had no issues at all with our rear wheel vehicle getting up the mountain, we chose to walk to the restaurants most days. Would definitely stay at this chalet again. (Shelly)" - , 04/07/2023
"Such a fun spring break for our whole group! Loved having king beds, several TV's, games for the kids, and plenty of things to do within walking distance. We definitely recommend this cute, clean chalet and plan to return later this year! (Emily)" - , 03/12/2023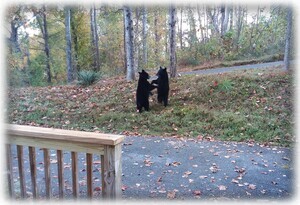 "This was a nice, long family vacation in the Smoky Mountains over the Christmas & New Year's holidays. We could not have picked a better location since the property was conveniently situated near downtown Gatlinburg, yet quiet with abundant wildlife to watch. Also, booking direct saved us a small fortune in fees :D (Libby R.)" - , 01/04/2023
"We had a great trip! The house is as described. Ideal location - near town but nestled in the woods. I especially loved the decks and hammock. (Diane)" - , 11/27/2022
"Excellent vacation in a quiet and very convenient part of Gatlinburg. Friends made the big mistake of staying in Pigeon Forge and spent most of their time stuck in traffic. They also missed the beautiful fall foliage that we got to enjoy while staying in the woods. We'll be returning next year for sure. (Greg) " - , 11/16/2022
"Oh my goodness where do I start? We had the most wonderful stay at Sarah's chalet. It's very pet friendly and had lots of space outside to walk our dogs. Our family really enjoyed the cabin. It was so convenient to everything in town! The beds were comfy and the entire home was so wonderful. My son loved the cozy bunk room. Both bedrooms had huge king sized beds and were plenty big and comfortable. The kitchen was also very accommodating with a full fridge, dishwasher, and oven. Was perfect for having coffee in the mornings and lots of cabinet space. We loved the fireplace and the living room as well. The 2 story deck was beautiful and we enjoyed sitting out there having coffee and taking in all the nature. We were thrilled to get to see the resident bears "Barry" and "Big T", the bears that my 8 yr old named while visiting. They must frequent the yard often because they were very comfortable in that setting. Big T looked to be an older much bigger bear and Barry looked to be about 2. They were putting on a show for us in the front yard. We sat in the living room and watched them for a couple hours. We saw them almost every day we were there. We will definitely be back for another visit sooner than later! (Angela M.)" - , 10/09/2022
"Such a fun vacation for all 6 of us!! Every late afternoon we saw the same bear scrounging for fallen nuts right across the street. We had a hoot watching it from the front deck and inside the cabin. It was also a total thrill for the occasional car that would drive by and see it. The bear never seemed fazed at all and just ignored any people it saw. We figured it was preparing for hibernation. Everything at the (very clean) cabin was great. We particularly appreciated the king beds and convenient location near downtown. Highly recommend 😄 (Kimberly) " - , 09/22/2022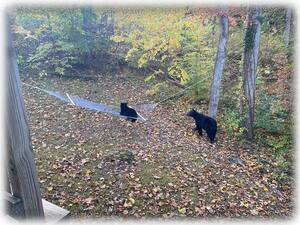 "Booking directly with the owner was definitely the best way to rent. We saved a lot in fees and avoided all the management company horror stories we kept hearing about. This property was very comfortable with lots of amenities. We especially enjoyed having so many cable TV channels to choose from since it rained a couple days and we stayed inside. (Liz D.)" - , 08/23/2022
"Great location. Very clean and well stocked. (Adam) " - , 07/27/2022
"We thoroughly enjoyed our stay! Everything was just as described and the location was super convenient...literally minutes from EVERYTHING! The chalet has everything you need to relax, cook a meal, or use as base camp for your adventures in Gatlinburg and Pigeon Forge. We particularly enjoyed being able to bring our dogs and them having a place to be comfortable and safe. (Bart) " - , 07/18/2022
"Great place to enjoy a vacation. Very comfortable. Everything you need was there and cleanliness was exceptional. If you choose this cabin you will not regret it. Really enjoyed the stay. Will definitely return in the future. Kitchen was fantastic, filled with lots of supplies. Was hoping to see a bear 🐻 , hopefully next time. (Marsha W.)" - , 07/03/2022
"Some friends stayed here a few months ago and are still raving about it so we decided to check it out. Unfortunately, we only booked 3 nights. You need at least a week to really enjoy even a fraction of what the area offers! It was a great time, anyway, and we also highly recommend this cabin. (Carrie)" - , 06/09/2022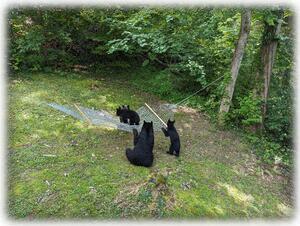 "This chalet did not disappoint! The location and amenities were exactly as described. Having an enclosed deck for the dogs was a huge perk. Also, staying in Gatlinburg was definitely the best choice since none of us wanted to spend our vacation sitting in the usual heavy traffic to/from Pigeon Forge, etc. Virtually everything we wanted to do was in Gatlinburg, anyway. There was really no reason to leave town. We plan to return this fall and stay here a full week if available. (Pat)" - , 05/02/2022
"We had an awesome time during the 5 days we spent at this property. On 3 different days we saw bears walking down the road. (They totally ignored us when we shouted at them and just kept going so they seem fairly used to people). It totally made our vacation! Also, as live "news junkies" we really appreciated having a cable TV in the living room and every bedroom. Clean, quiet, and comfortable - especially the king-size beds - makes this an ideal place to stay in Gatlinburg. (Neil F.)" - , 04/17/2022
"A very clean cabin up on a hill just a little outside of downtown Gatlinburg. Our stay was great and our kids loved it. (R.J.)" - , 03/30/2022
"This was such a cute and cozy cabin. The location was great, as it was only about a 15 minute walk to town. The home was clean and stocked with all utensils needed to prepare meals. There were plenty of towels and blankets for everyone. Sarah left clear instructions and responded promptly. Great place! (Annastasia)" - , 03/16/2022
"Fabulous cabin with abundant amenities. We all (including the dogs) really enjoyed the snow and even did a little skiing/sledding nearby. Renting directly from the owner saved us a lot of money and aggravation. Highly recommend. (Curt)" - , 01/17/2022
"Exactly what we expected! Really enjoyed our stay. Very convenient how close the cabin was to all the attractions. (Staci P.)" - , 12/30/2021
"Overall, we had a wonderful stay! The house was comfortable and as described. The location to Gatlinburg downtown is very close as well as Pigeon Forge. Even with the closeness, the house felt remote and was a quiet location. The beds were comfortable. We didn't try the sofa bed. The showers and bathrooms worked well and had good water pressure and hot water. The kitchen is a tight squeeze, but everything worked well. (Joanna)" - , 11/27/2021
"Lovely, clean, and comfortable cabin in an excellent location with virtually no neighbors. We're already planning our return visit here and will definitely stay longer. (4 nights were NOT enough!) (Annie)" - , 10/14/2021
"The house is in a great location! So close to the Gatlinburg main strip but also isolated so you can enjoy the quietness around you. Outdoor area is ideal for morning coffee or evening relaxation. Plenty of space and we loved that it was dog friendly!! We all had a great time. (Lauren M.) " - , 08/09/2021
"Thank you for the wonderful time in your beautiful cabin over the July 4th holiday. The weather was picture-perfect every day of our ventures into the Park. This was our 9th visit and my brother and sister's first visit. We made some amazing memories. (Vidya & Family)" - , 07/08/2021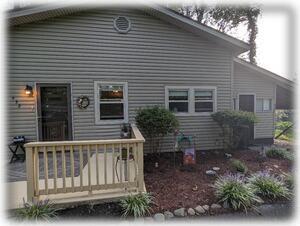 "This cabin is awesome. I recommend it 1000%. It's only a couple blocks from downtown Gatlinburg and at the same time it's very remote. The hill going to the cabin is steep, as stated, but my KIA Sedona van had no issues at all. The cabin was very clean and extremely well equipped. Anything we needed was at our fingertips. The only negative was that we didn't see a bear. Maybe next time - and there will be a next time - at this wonderful rental. Sarah Elizabeth was a great host! (William) " - , 06/21/2021
"We all had the best time at this cute, clean, and well-equipped chalet. 3 nights was NOT long enough to see and do all things we wanted, though, so we're planning to return here in August for a week! (Pam)" - , 04/23/2021
"Thanks for a great time! We loved being in the mountains and we definitely enjoyed all the Southern hospitality. I don't think we'll forget the natural beauty, the city, or this awesome cabin. Great times with good friends!! (Erich, Emilee, Danielle, Gina, Trevor, Matt)" - , 02/11/2021
"This was a wonderful place to spend the Christmas and New Year's holidays! We were blessed with abundant snow that the dogs especially enjoyed. The location was perfect - very close to town in a relatively secluded part of the mountain. A car wasn't really necessary since we could walk to many nearby restaurants and shops throughout our stay. The owner was very professional and a pleasure to work with, a big change from the impersonal management companies we used in the past. (Lynne R.)" - , 01/04/2021
"Location! Location! We loved your place - very close to everything. Town is awesome. We had a great time. Thank you very much :D . (Olga, Anton, Max, Eugenia) " - , 09/20/2020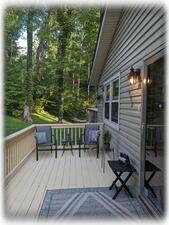 "Lovely place! Really enjoyed our stay. (D.Z.)" - , 07/26/2020
"Thank you for a wonderful weekend stay! The cabin was perfect for our family and friends to enjoy a Mount Le Conte hike. Everything was just as expected. We will be return guests. (The Oakes & Morells)" - , 07/12/2020
"Wonderful time in the Smokey Mountains with family. (The Spencer & Healy Family)" - , 07/07/2020
"We had a wonderful stay and got in some great hiking. Thanks much! (Joshua G.)" - , 06/29/2020
"We had a great time. Perfect location, great place. We did see the bear. We named him Boo Boo : ) Thanks! (The O'Connells) " - , 06/21/2020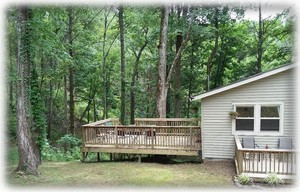 "We had a wonderful three day stay at your cabin. It was perfect for our family and my dad. We enjoyed the decks - listening to birds and watching a local groundhog. We even saw the resident bear!! Your cabin was a perfect retreat after a day of hiking with our tiny tots. Thank you! (The Jones and the Dwyers)" - , 06/14/2020
"I stayed here with several of my friends for a few ski days at Ober Gatlinburg. We decided to rent directly from the owner and not go through a management company due to problems with them in the past. The cabin was clean and had 3 nice decks to hang out on. We all had a blast and plan to return in the spring for some hiking before it gets too crowded. (Tim L.) " - , 01/16/2020
"My family and I thoroughly enjoyed our week at this adorable chalet! We would definitely stay there again, and highly recommend it to anyone desiring a quiet retreat in a wonderful location. (Vickie M.)" - , 10/20/2019
"Our group had a really great time at this Gatlinburg cabin. Staying in Pigeon Forge was not an option for any of us, due to all of the traffic congestion and crime there we kept hearing about. The owner was very nice and professional. We're thinking about booking this place again for either Thanksgiving or Christmas if available. (Kelly S.)" - , 09/09/2019
"Clean, comfortable, perfect location - best vacation in years! (Roger)" - , 08/18/2019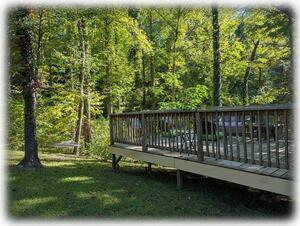 "All of us had an awesome time staying at this property. It was clean and very well-stocked. Also, the Web site was extremely detailed and answered every one of our questions before we booked. (Didn't have to bother the owner with unnecessary questions!). The whole process was eazy, breezy :D (Joni K.)" - , 08/05/2019
"Thank you for allowing us to spend our family vacation at your great cabin. Everyone (including the dogs) had lots of fun. We're so glad that we found this owner-direct property and didn't have to rent through another awful management company or stay at a cramped/dirty hotel. You definitely earned our recommendation. (Dan G.)" - , 07/28/2019
"I am SO glad that we decided to book this property months in advance during a very popular time in Gatlinburg. (For several reasons, none of us wanted to stay in Pigeon Forge). It was clean and well-maintained. Also, the owner was a pleasure to do business with - not like any of the bad cabin management companies we dealt with in the past. All 6 of us, and our 2 dogs, had a wonderful and relaxing time there! (Susan E.)" - , 06/22/2019
"We all had a really enjoyable time at this chalet over the Easter holiday. Seeing a bear on our second day there was particularly special! The owner was easy to work with and made the reservation process seamless. (Charlie S.)" - , 04/23/2019
"Heard about this place from a coworker who stayed there a few months ago. Some friends and I decided to book it for a quick retreat. It was real nice and we all had a great time. (Peyton L.) " - , 03/16/2019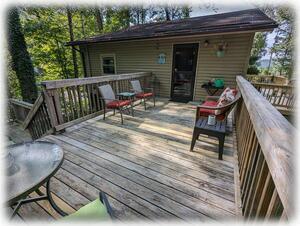 "I loved having my two legged and my four legged family together for Thanksgiving. Location was perfect, The weather was perfect. Sara was very accommodating to our needs." - Claudia M., 12/11/2018
"For starts, it was in the most convient place ever. Right near downtown. Uber is cheap and quick from here to most places in the area. Once you're at the cabin, there is a huge space to hangout and be together. The outside deck is really big too! It's close to everything but still very secluded. Perfect! And my contact who set this up is very kind and responses fast to any questions. Great Experience!" - Tyler B., 11/09/2018
"House is not bad for 2 day stay" - Rodolfo R., Raleigh, NC, 08/30/2018
It is unfortunate that this guest did not look at the photographs and understand the detailed description regarding beds, etc., before he booked. As per all of the other guest comments on several sites, the property is 'exactly' as posted. Additionally, he never contacted us about the house size or any other issue the entire time he was actually there. Accordingly, we try no longer renting to those who display poor reading, language, and/or communication skills. It is just not worth the risk of having a less than happy guest who leaves a mediocre review at no fault of our own.
"My family and I had such a great time on our stay. The Chalet had everything we needed to cook with, make coffee, sleep 9 and just have an overall great time. The first morning we had excitement seeing a bear come down the road and again the third night when he put a show on swinging in the hammock outside. I would recommend keeping your windows up during your stay, the bears are known for getting in peoples cars hunting for food. Also would recommend face mask or something if you plan on going on a hike there, the gnats are unbelievable. Over all had the best time in this cabin! Only complaint was from my brother and sis-in-law who slept on the sleeper sofa. They said the mattress was next to nothing. They blew up the air mattress for the rest of the night. We had such a great 4th of July Vacay!" - Timothy J., 07/24/2018
As posted in the sofa bed description: 'Extra foam pad was added August of 2018' (replaced regularly).
"The first thing you will be sure to notice is how very clean and well taken care of this cabin is! We are very picky about cleanliness (The wife especially) and this cabin did not disappoint. It is very close to the strip in Gatlinburg and will definitely be staying again. Highly recommended!" - Michael G., 08/04/2017
You and your family are welcome back anytime, Mike! Thanks for the wonderful review :D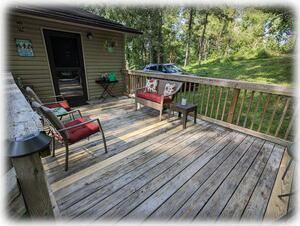 "Weekend in Gatlinburg with son and his family. This cabin had plenty of space! We didn't even use the room with the bunk beds. Location was fantastic with quick drive to the strip, or Pigeon Forge. Easy access to the cabin from main roads. And though we were in the mountains, we didn't have miles of winding roads. Sarah was great to work with and easy to contact with quick response. And the property is well managed and clean. She provided thorough, simple instructions for our arrival and departure. We look forward to returning to this cabin next fall." - Deborah C., 03/29/2017
Thank you so much for the great review. You're all welcome back in the fall and any other time of year!
"We came in post wildfires 2016. Our family was having Christmas together and my children flew in from several states. The owner went out of her way to make sure the cabin was ready for our visit. We had everything we needed from cooking utensils to being able to do laundry. The cabin and area was cozy, relaxing and surreal yet minutes away from most major attractions. When coming back to the Gatlinburg area we will definitely see if this cabin is available." - Keith B., 12/31/2016
Keith, thanks so much for your wonderful review! I'd love to have you and your family back again.
"Great location, beautiful cabin, well-furnished. We really enjoyed hanging out on the two wooden decks. The kitchen had everything we needed for cooking and grilling out. Having both bathrooms located within the two bedrooms was mildly inconvenient for the guest staying in the third bedroom and when we had some additional guests over for dinner. But all in all we really enjoyed our stay and I would definitely recommend the place to anyone looking for a beautiful getaway within minutes of the main Gatlinburg strip!" - Alex D., 10/14/2016
Alex, It was a pleasure to host you, and your nice review is appreciated.
"I stayed here for a week with my family in late April. We were very impressed with how detailed the Web site was and how quick/easy it was to book the property. (Some places didn't even reply). The two main bedrooms had attached bathrooms and king-size beds, which we particularly liked having. We also appreciated the mountain neighborhood that had abundant wildlife. We frequently saw pheasants, deer, and small elk on the road in front of the cabin - got some great photos! We plan to come back to Gatlinburg in the fall and stay here again. I highly recommend this cabin." - Emerson W., Montgomery, AL, 05/17/2016
Thank you, Emerson. (You really lucked-out with the wildlife!)
"Some friends and I stayed at this cabin for 5 nights in February to do some skiing and snowboarding. We chose this place for all of the amenities and because the owner was so responsive. (We did NOT want to stay at a non-owner managed property, due to problems in the past). Everything was exactly as posted. We especially enjoyed the mountain location and the comfy beds. Just wish we could have stayed longer!" - Suzie A., Germantown, TN, 04/23/2016
Thanks for the great review, Suzie. We constantly strive to prove that renting owner-direct is always best. (There are many sad stories about area management companies that offer poor customer service once their commission is paid!) Every property detail is clearly posted on our Web site and/or rental agreement. This eliminates virtually all unnecessary questions/confusion/misunderstandings from our guests/potential guests. Anyway, please try us in the summer or fall next time for an equally 'positive experience'.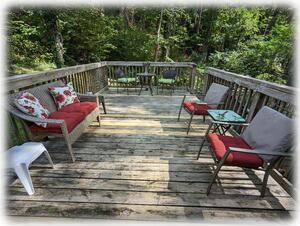 "My family and I spent a week at this cabin in late July. We all had a fantastic time! It was clean, well-maintained, and the owner was very professional to deal with. We've decided to make this place our regular vacation rental whenever we visit Gatlinburg, which is often. It's a great value and is certainly better than staying at one of the cheesy hotels in the area!" - Megan P., Milwaukee, WI, 09/28/2015
Much appreciated, Megan. Got your message about possibly booking for Christmas and/or New Year's. Would love to have you back then : )
"I spent a week at this cabin in early May of 2015 with my wife, son, daughter-in-law, and their two children. (We heard that you need to spend at least 5 nights in Gatlinburg to adequately experience everything the area has to offer). Needless to say, the kids really loved Dollywood and the Aquarium. We adults favored the great restaurants and shows. Of course, everyone loved the Smoky Mountains. The cabin was very clean, comfortable, well-equipped, and close to everything that we wanted to visit. We plan to stay there again when we come back in the fall with some friends from Arkansas, and highly recommend this property." - Jarod R., Little Rock, Arkansas, 05/16/2015
Thank you for the lovely review you posted! It would be great to have you back during autumn. Please book early, though, since most people prefer cabins (such as this one) that are right in the mountains that time of year for the beautiful foliage.
"Stayed here with several friends while doing some skiing in Gatlinburg for a few days. We all had a blast and found the accommodations just right for us. The sleeper sofa was (surprisingly!) very comfortable, as were the beds. We especially enjoyed using the charcoal grill and outdoor fireplace at night. Spending quality time with friends in the mountains, while being close to town, made for the perfect setting. SO much better than a hotel. We'll be back." - Kimberly E., Charleston, SC, 03/12/2015
Thanks, Kim. Look forward to seeing you back - maybe in the summer when there is even more to do in and around Gatlinburg :D
"After a positive experience at one of the owner's other properties, my family and I (7 total) booked this cabin in early December for a pre-holiday vacation. It was very quiet while being nearby to the \" - National Park Enthusiast, Gulfstream, FL, USA, 12/30/2014
Here's the remaining review (verbatim) that got cut off, due to character issues: 'main drag' of Gatlinburg. We either walked or grabbed a trolley whenever we wanted to go downtown (where parking is always difficult and expensive). Having 3 bedrooms, a second full bathroom, 4 cable TV's, and a washer/dryer were also big pluses. We would definitely stay here again, since we love to visit the Smoky Mountain area year-round and dislike hotels (for many obvious reasons!).